Welcome to Hamersley Rovers
18 March 2014 Written by HRSC
Welcome to Hamersley Rovers Soccer Club for 2014. This season promises to be one of continued success for the clubs many teams. Our Premier League Amateur squad has added depth since last year and welcomed many new players to its ranks to work with new first team coach Garrett McDuling and returning reserve team coach, Tel Stupple.
Hamersley's development team had a pre-season boost and have been promoted into Division 4. Sam Ellis joins John Markham to coach and develop the young squad.
Our Ladies team continue their meteoric rise up the leagues and will look to challange again for silverware. Our Masters head into the Premier League after a long absence while our Social teams expect to be competitive with new faces signing up.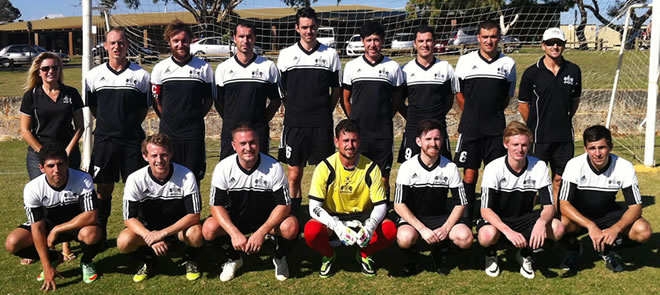 We are one of the largest senior soccer clubs in the state, currently fielding 11 senior sides including amateurs, socials, masters and ladies teams. Our affiliated junior club Hamersley Rovers Junior FC has teams in almost every age category, together making us one of the most popular and well known soccer names in Western Australia. It has, and always will, welcome people of any age to its ground in Carine and ensure they feel a part of the club.
If you would like to be part of this friendly and forward thinking club, please do not hesitate to contact one of the committee members or email admin@hamersleyrovers.com.au for more information. For information on junior soccer please contact Hamersley Rovers Juniors FC at mail@hrjfc.com.au
Hamersley Rovers Soccer Cub is a multi-cultural club. We encourage respect and equal opportunity for all our members. We value the excellent reputation our club has, both through successes on the field; governance, and in the way we conduct ourselves when dealing with our stakeholders. We recognise that our club plays an important part in the community. We are your second family; a place for social interaction, for getting involved, for health and fitness, for all. Our business sponsors are integral members of our family too. We appreciate the importance of promoting our sponsors' businesses to recognise the significant contribution they make to our club. And finally, success to us means providing the facilities to maximise participation, encourage development and improvement, and ultimately, on-field success.
Share This Page