Wangara Volkswagen - Premier Team Sponsor
25 November 2016 Written by HRSC
Hamersley Rovers are proud to once again have the support of Wangara Volkwagen for 2017. Wangara Volkswagen is the only Volkswagen Passenger and Commercial dealer north of the river.
We stock a range of quality used cars as well as the entire range of new passenger vehicles including the new Golf and Volkswagen commercial vehicles including the Amarok and Caddy.
Our dealership is your one-stop-shop for vehicle finance and insurance, fleet management, parts and accessories and our state of the art service department services all makes and models.
Wangara Volkswagen
10 Berriman Drive, Wangara, WA, 6065
Ph: (08) 9309 7888
Jim's Fencing
02 February 2016 Written by HRSC

Jim's Fencing is the largest fence installation company in Australia, and we are ready to help you with your fencing requirements. Our services include expert advice and installation for all types of fencing and gates including Colorbond, Hardifence, Tubular pool & feature fencing, Glass, Pine-lap, feature timber picket, PVC, Slat, Chain mesh, Garrison, Security and Emu wire as well as rural and noise reduction fencing. We are also licensed asbestos fencing removalists. No job is too big or too small.
We believe in top-quality fencing that is highly functional, long-lasting and attractive to look at. When you partner with us, you are choosing to work with Australia's leading fencing industry professionals. Jim's Fencing is ready to help you!
Please call us today on 13 15 46 for a quote from your local guy or go online to www.jimsfencing.com.au
The Dapper Scoundrel
01 February 2016 Written by HRSC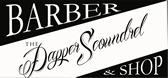 The Dapper Scoundrel is a new men's barber shop on 807 Beaufort St, Mt Lawley and operated by our very own Conor Fullard. Conor is a highly talented and experienced barber and is running a special offer for all Hamersley members.
To make a booking please contact Conor on 0420 523 511
Central Man Barbering Services
Top Man ~ $40 {wash, cut & styled, finished with a razor neck shave and hot towel}
Central Man ~ $35 {dry cut, no frills}
Clipper Cut ~ $30
Beard Trim ~ $15
Skin Fade ~ $50 {precise faded haircut with the cut throat razor incl. wash and styled}