Telstra Business Centre - West Perth Premier Team Sponsor

10 April 2019 Written by HRSC
ABOUT US
The Telstra Business Centre West Perth has been servicing the local business community in Perth since 2009. Family owned and operated we specialise in providing advice and consultation to businesses both small and large about how to best structure their telecommunication products. Whether you are keen to simply replace a mobile phone, learn about the cloud and hosted software/IT solutions, the NBN or upgrade your office phone system the team at West Perth are your one-stop-shop. Backed by Australia's premium telecommunication provider and with a local face and presence we aim to delight every customer and change the way you talk about Telstra.
We are a Microsoft certified partner and specialists in Microsoft Office 365. If you are considering moving your email and business systems into the cloud arrange an appointment with one of our team members today.
OUR SERVICES
Phone systems
The Perth specialists for phone system installations and upgrades. We are NEC, Alcatel and LG-Ericsson PABX experts. Speak to our friendly staff today.
Office 365
Start your move to the cloud with Microsoft Office 365. Let us show you how to manage email, document storage, collaboration and mobility through one portal. Ask us how today.
Mobiles and Tablets
Still using paper-based forms? Carrying manuals or documents in your van or vehicle? Let us show you how to combine tablets, Telstra mobile broadband and our latest software to transport your business into the digital age
NBN
We are your local NBN experts and can provide advice and consultation about when then NBN is due in your area and how to switch across when it arrives.
Cloud Applications
Why spend money on expensive servers, on-site hardware or clunky software licenses. Leverage world class cloud applications and data centre solutions that are scalable, secure and fast on a monthly, per-user pricing plan. Speak to our friendly team today.
CONTACT US:
Telstra Business Centre West Perth
26 Colin St West Perth
Ph: 08 9327 3000
Poms TV
18 March 2018 Written by HRSC
Leaders in TV Boxes - stream UK and Irish TV plus other countries, no need to remember to record, most of the popular channels have 7 day catch up allowing you to watch whenever it suits. HD quality without the buffering.
Box comes pre-loaded with the best apps available for streaming live sport, tv shows and movies.
Message us on Facebook for further information and pricing.
Box special - mention Hamersley Rovers Soccer Club and receive a 10% discount on the hardware price.
Boxes range from $100.00.
Currently have a box and would like it updated? No problem, re programming available, message us for details.
Email: sales@pomstv.com
Website: www.pomstv.com
Facebook: www.facebook.com/POMSTV/
Phone: 0491 015 714
The Dapper Scoundrel
01 April 2018 Written by HRSC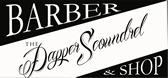 The Dapper Scoundrel is a men's barber shop specialising in precision cuts and clippering located on 807 Beaufort St, Mt Lawley and now open in London Court, 674 Hay St, Perth. The Dapper Scoundrel is operated by our very own Conor Fullard. Conor is a highly talented and experienced barber and is running a special offer for all Hamersley members.
To make a booking please contact Conor on 0420 523 511 of simply go to his webiste (www.dapperscoundrel.com.au) for online bookings.
Central Man Barbering Services
Top Man ~ $40 {wash, cut & styled, finished with a razor neck shave and hot towel}
Central Man ~ $35 {dry cut, no frills}
Clipper Cut ~ $30
Beard Trim ~ $15
Skin Fade ~ $50 {precise faded haircut with the cut throat razor incl. wash and styled}